How to interest an investor? How to "sell" your idea to him? And how to get the first investment in your project for a short dialogue? Usually, these questions are asked by all startups who need funding. The idea itself is only 50% of success, but how you present yourself plays a decisive role. This article will tell you how to properly present yourself and your product so that you want to invest in it.
What is a pitch?
Pitch (from the English Pitch – "throw, pitch") is a short presentation of the project to potential venture investors. The art of feeding an idea consists in the ability to interest the opponent as soon as possible and attract the first investments. That is, your pitch should be as concise, structured and exciting as possible. It can also be not only a monologue, but also a letter to an investor.
The community is now in Telegram
Subscribe and stay up to date with the latest IT news
Sign up
What are the pitches
Pitches are divided into several types depending on the complexity and duration of the presentation:
Elevator Pitch
Elevator Pitch is a format in which you have to tell an investor about your company in 30 seconds, during a short meeting or an elevator ride.
For such a presentation, pitch guru Bill Joss suggests formulating the concept of a startup in seven words – you can have more, the most important thing is to have a minimum of water and a maximum of useful information.
Your main goal in this case is to make contact. If the investor is interested in your proposal – great, if not, then it's okay, you don't need to impose yourself and try to "push" your idea. Most likely, this is not your first and not your last investor. If the person himself is not interested in investing, you can ask who else you can turn to and who might like your project – this is quite appropriate.
Idea Pitch
An Idea Pitch is a presentation that you will use at competitions or events. It lasts about three minutes, and there is time to talk, in addition to the idea itself, about the business strategy, the size of the market, what problem your startup is designed to solve, and what sets you apart from the competition.
You don't need to go into detail, the main thing is the problem and the solution you offer. If the investor has questions, he will ask them himself. No need to use a lot of complicated terms, make your pitch as simple and clear as possible. It is better to tell about the prospects of the financier himself: how much can be earned, how did you calculate it, what is the benefit?
Funding Pitch
Funding Pitch is the longest format, 10 minutes. Here you tell in more detail about the amount of investment you need, highlight your plan, strengths and other details you consider necessary.
You have to let the investor know what your profitability is: 10%, 20%, or maybe all 30%. Tell us how you intend to change the market, when and what resources you have at the moment. You make a Funding Pitch when you are sure that an investor is already interested in your project. You should think about the details: it is not necessary to insert them into your speech, but if the investor starts asking questions, then you should be ready to answer them. And here is what else is important: you should not embellish the project or exaggerate profitability.
Read also
Pitch session
A pitch session is an event where startup entrepreneurs gather to interest an investor in their project. Everyone presents their business for about 20 minutes, investors listen to the speeches and then contact those who interested them.
On the one hand, such an event is very useful, but on the other hand, what makes it different from pitching in an elevator or an email to an investor is competition. You are not alone at such a presentation, and everyone needs investment. Therefore, the more you invest in preparation, create an interesting presentation, talk about your advantages and benefits for the investor, the better.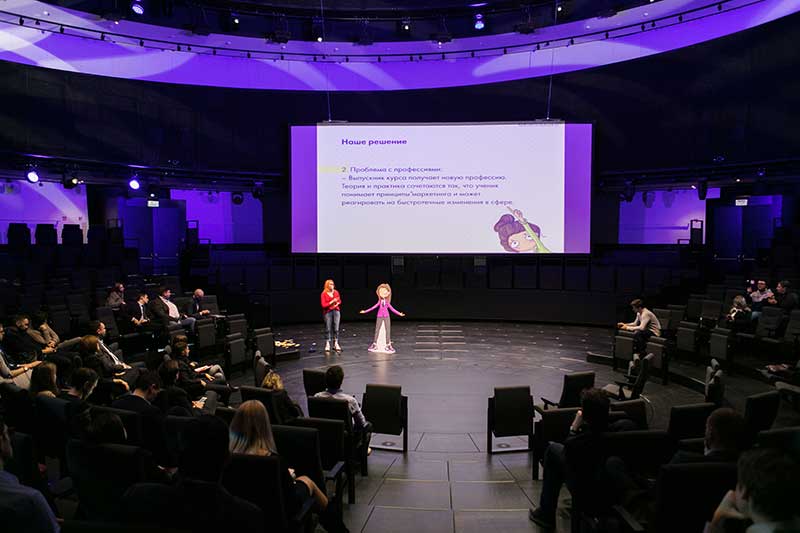 International pitch session "Pitch & Awards". Image: www.skolkovoevents.ru
A selection of pitch sessions:
Startup Village – an international technological conference, which is held annually in May on the territory of "Skolkovo". There is a selection, you need to register and apply for participation, the best 100 projects go to the conference.

Emerge – an online session held in Central Europe and East Asia. More than 300 investors from the startup can invite three employees.

"Startup Cafe" – a project that organizes various events, including pitch sessions.

Pitch & go – Skolkovo Ventures project, organizes pitch sessions three times a year. About 70 investors and 15 project authors are participating. Projects are selected for participation according to the following criteria: the degree of development of the product or the uniqueness of the technology, the availability of the market, the formed team, the availability of the first contracts with customers.

Pizza Pitch – a monthly online event. 10 startups are allowed, each of which should last 3 minutes. Project organizer: HSE Business Incubator. Participation is free, you need to apply on the website.

"Investors' Club" at the Clubhouse – the event takes place in several auditoriums. Participation is free. You need to subscribe to the Telegram channel indicated on the Clubhouse group page and follow the announcements.
Pitch in the letter
There is a certain scheme according to which it is recommended to make a pitch list:
Introduction. Try to find points of contact, write why you approached this particular person, how your project can be useful for them.

A short story about yourself. The main idea of ​​the startup, at what stage of development it is, what investments are needed.

Offer a meeting or video call. In this format, you can conduct a full-fledged Funding Pitch. Better, of course, to do it online.

At the end, tell more about the project and add a presentation to the letter.
It will be a great advantage if this message is sent to the investor by a mutual acquaintance of yours. The format of the letter should contain answers to the following points: "Pain" of the investor; a description of the problem and the solution you propose; what is your plan; what are your predictions; how you will enter the market; how will you monetize your business; and what kind of team do you have?
In conclusion, a small checklist with pitching rules:
Clearly state the purpose of your project.

Don't use highly specialized terms and don't go into details unless asked.

Be honest. There is no need to try to show you and your project as something that it is not.

Don't be afraid of rejection. Unfortunately, you will have to get used to the fact that most investors will reject you, and about 3-5 out of 100 will agree to invest. And this is absolutely normal, rejections do not say anything about the quality of your project or your professionalism. There will be constructive criticism – work and refine the project if you think it's necessary, but never give up on what you've started.
That's all. I hope the article was useful for you. Good luck to you and your startup!