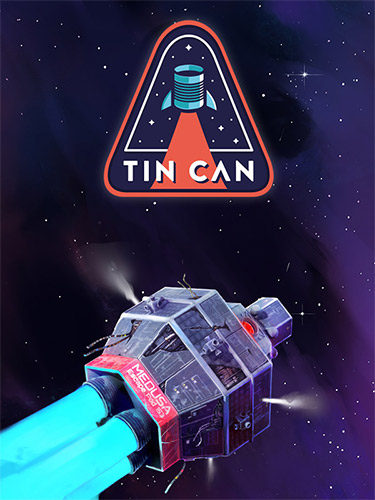 Tin Can
v1.0.01b
---
Release Date: May 12, 2022
Genre: Managerial , Survival , First-person , 3D
Developer: Tin Can Studio
Publisher: Tin Can Studio, IndieArk
Platform: PC
Engine: Unity
Steam user ratings: 92% of user reviews are positive (393 reviews)
---
Interface language: Russian, Ukrainian, English, French, Czech, German, Spanish (Latin America), Portuguese, Polish, Simplified Chinese, Romanian, Greek, Japanese
Voice language: English
Edition type: Repack
Medicine: stitched (from the DOGE group)
---
System requirements:
OS: Windows 7 (x64)
Processor: Core I5 CPU
Memory: 8 GB
Video: GTX 880M or equivalent
DirectX: 9.0c/10/11/12
Disk space: 11.3 GB
---
Description:
"In space, tech support won't hear your screams!"
As an accidental member of your colony's space program, you leave Mars aboard a large transport ship, but in the middle of your journey to new horizons, its reactor fails. All your time spent in the simulator has not prepared you for such a terrible situation! Now, drifting in your escape pod with no FTL capability, you realize there was no easy way out. Use your wits to fix systems just like you fix and build your own PC by swapping and fixing individual components. With any luck, you may finally find a safe haven.
Get your hands dirty!
"Gee! Oxygen generator refuses to start… I hope it's just a fuse that cut power, and not some problem with the atomic pile!".
All systems inside your escape pod are made up of many different components, from fuses to air filters. All of them are interconnected and have their own critical functions.
Listen to your body!
"My vision has been blurry for a while now and it's getting worse! I really need to find this leak before I pass out!"
When all your systems fail, in the dark, only the sound of a heartbeat and shallow breathing will warn you of imminent death. O?, CO?, atmospheric pressure and temperature are realistically modeled for maximum immersion.
Your life hangs in the balance… don't lose focus! .
"Those weird error codes again!? Where's the damn manual? This pod is a mess! Ah! There it is!"
The manual inside your capsule is filled with detailed information that could very well save your life.
Plan ahead!
"What a view! Is it just me, or is it getting hot in here?"
From asteroid fields to nebulae, these space monsters will wreak havoc on your systems and won't give you much time to breathe…
---
Game features
Manage capsule systems down to every component.
Multiple systems, each with its own unique function to ensure your survival. Every system is interconnected, from the oxygen generator to the emergency lighting.
Over a dozen different components, each with a specific function and causing different problems when damaged. For example: Faulty buttons don't work properly when pressed, and faulty electrical connectors don't provide enough power.
Organic glitches due to the simulated nature of resources and components in the game. You'll have to figure out what's wrong and trace the malfunctions back to their source.
Dismantle, change and repair everything inside the capsule.
Realistic managing vital resources such as oxygen, carbon dioxide, temperature and radiation. There are no arbitrary numbers here. The levels of these resources needed to survive are based on real life!
An on-board manual containing detailed information about your escape pod.
Real medical symptoms instead health bars. For example, hypoxia (lack of oxygen) will make you breathe faster and harder, make your vision blurry, and slow your movements until you fall unconscious.
various effects on its systems. From flying near the surface of a star that will cause overheating, to asteroid fields that will hole your hull, you need to anticipate and deal with situations as they arise to avoid certain death.
Repack features
The repack is based on the Tin.Can-DOGE ISO: wow-tin.can.iso (3,889,356,800 bytes)
100% Lossless and MD5 Perfect: all files are identical to the original after installation bit-accurate release
NOTHING cut, NOTHING re-encoded
Significantly improved compression (from 3.6 to 1.4 GB)
li>
Installation takes 4-6 minutes (depending on your system)
After installation, the game takes up 11.3 GB
After installation, the verification option is available checksums of all files to make sure that the repack was installed normally
The language is changed in the game settings
To install the repack, you need at least 2 GB of free RAM ( including virtual one)

[Repack] by FitGirl
Own screenshots from the repack
Problems installing and running repacks? (not just mine)
If you get errors when installing my or any other repacks (especially Xdelta or with Unarc.dll), try the following:
Rehash the torrent! – for example in uTorrent you need to select a game, press stop, press the right mouse button and select "Force re-check".
Make sure that your username in Windows does not contain Russian or other non-Latin letters – only Latin letters and numbers are allowed
Disable the antivirus – it can falsely work for drugs, which will either interrupt the installation of the repack, or simply prevent the game from starting
Disable UAC – it can block unpacking/assembling programs inside the installer
Make sure that the size of your virtual memory (swap file) is at least as much as the amount of physical memory, and preferably twice as much.
Make sure that you have enough space on the target hard drive, as well as on the Windows temporary files drive.
I'll try install the game NOT on the C: drive, or vice versa – ON the C: drive, if it is not installed on another one – the rights in Windows are like this …
Look if there is a Windows system folder (and deeper) of the unarc.dll file. If it exists, remove it
Run the installer with rights as shown in the picture ("Properties" menu when you right-click on the file):