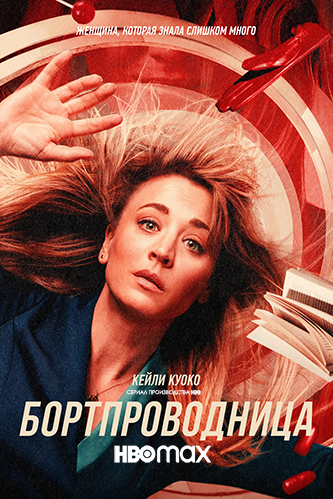 Series Information
Title: flight attendant
Título original: The Flight Attendant
Release year: 2022
Genre: Detective , comedy
Directed by: Silver Tree, Susanna Vogel, Marcos Siga
Cast: Kaley Cuoco, Merle Dandridge, Nolan Gerard Funk, Michelle Gomez, Michiel Huisman, T.R. Knight, Zasha Mamet, Rosie Perez, Colin Woodell, Griffin Matthews, Audrey Grace Marshall, David Yacono, Jascha Jackson, Stephanie Koenig, Sherine Shetty, Berto Colon
Description:
International flight attendant Cassandra Bowden is a big fan of parties, drinking and one-night stands. Thanks to her work, the girl travels all over the world and does not miss the opportunity to have fun at any destination. So this time, Cassie could not resist the attractive business class passenger Alex Sokolov, and the couple stormily reveled in a Bangkok hotel. So violently that in the morning Cassie finds her lover with his throat slit. Panicking and doing a lot of ridiculous things, the girl runs away from the hotel, and after returning to the States and calming down, she decides to find out more about Alex.


The country:

USA
Studio: HBO Max
Duration: 6 x ~00:50:00
Translation: Professional (vociferous voice-over) | AlexFilm
File
Codec: AVC
Quality: WEB-DL 1080p
Video: 1920×1080 (16:9), 23.976 fps, ~ 8300 Kbps
Audio #1 :

AC3, 48.0 kHz, 6 ch, 384 kbps | AlexFilm
Audio #2 :

AC3, 48.0 kHz, 6 ch, 384 kbps | Original
Subtitles : English (Full, SDH)
Advertising : None
Source: The.Flight.Attendant.S02.1080p.HMAX.WEB-DL.DD5.1.x264-NTb
Distribution is carried out by adding new series