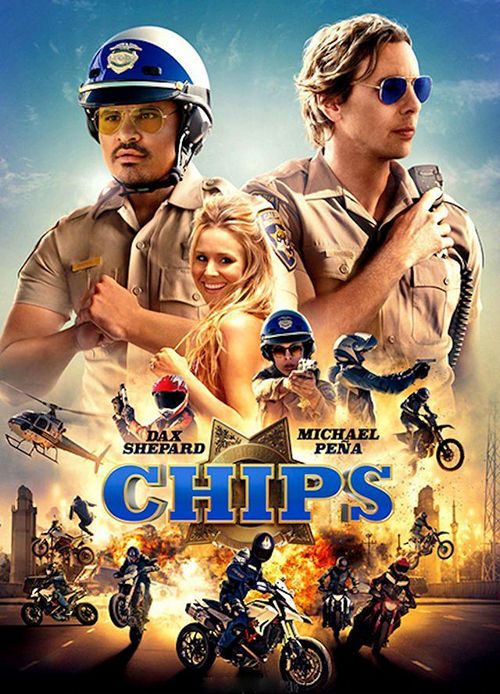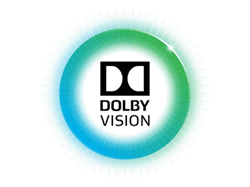 Movie Information
Title: California Highway Patrol
original name: CHIPS
Release year: 2017
Genre: Action , Comedy , Crime
Directed by: Dax Shepard
Cast: Michael Peña, Dax Shepard, Jessica McNamee, Adam Brody, Ryan Hansen, Kristen Bell, Jamie Bock, Justin Chatwin, Cameron Cruz, Clay Cullen
About movie:
Police officers John Baker and Frank Poncherello patrol the streets of the city together on motorcycles. Having received a radio signal from the dispatcher, they go to the scene to save the residents of the city from another criminal or dangerous intruder. It would seem that their work has long become a routine and has lost all its charms, but the absolute opposite of the characters of the partners and their different preferences in everything often put the main characters in ridiculous and even comical situations. In addition, regularly making fun of each other, friends do not forget about mutual assistance.

Country: USA
Studio: Primate Pictures, Warner Bros. Pictures
Duration: 01:40:50
Translation: Professional dubbed [iTunes], author's monophonic
File
Format: MP4
Codec: H.265
Quality: WebDL 2160p
Video: HEVC, Dolby Vision Profile 5 , 24.3 Mbps, 3840×2160, 23.976 fps
Sound:
Audio #1 Russian: AC3, 48.0 kHz, 5.1 ch, 384 Kbps [Dub, iTunes]
Audio #2 Russian: AC3, 48.0 kHz, 5.1 ch, 640 Kbps [VO, M. Yarotsky]
Audio #3 Ukrainian: AC3, 48.0 kHz, 5.1 ch, 448 Kbps [ Dub, iTunes ]
Audio #4 English: AC3, 48.0 kHz, 5.1 ch, 640 Kbps [Original]
Subtitles: Russian(forced, full), Ukrainian(forced, full), English(full, SDH, SDH Colored)
Additional Information:
Released in MP4 in Dolby Vision Profile 5 for playback on DV-enabled devices. Tested on Nvidia Shield 2019 TV boxes, Zidoo Z1000 Pro, Amazon FireTV Stick 4k, TiVo Stream 4K and Ugoos AM6+ and many more, as well as built-in players on LG, Sony, Phillips and Panasonic TVs.
It will not play on devices without Dolby Vision support (or it will, but with distorted colors), since there is no HDR layer in the video sequence
mediainfo
Video
Identifier : 1
Format : HEVC
Format/Info : High Efficiency Video Coding
Format Profile : Main 10@L5@High
HDR format : Dolby Vision, Version 1.0, dvhe.05.06, BL+RPU
Codec ID : dvhe
Codec ID/Info : High Efficiency Video Coding with Dolby Vision
Duration : 1h 40m
Bitrate : 24.3Mbps
Width : 3,840 pixels lei
Height : 2160 pixels
Aspect Ratio : 16:9
Frame Rate Mode : Constant
Frame Rate : 23.976 (24000/1001) fps
Color Space : YUV
Saturation subsampling : 4:2:0
Bit depth : 10 bits
Bits/(Pixels*Frames) : 0.122
Stream size : 17.1GB (92 %)
Title : CHIPS (2017) – Release by Dolby Vision Torrents
Default : Yes
Alternate group : 1
Encoding date : UTC 2022-05-12 07:41: 04
Tag date : UTC 2022-05-12 18:12:16
mdhd_Duration : 6049878
Codec configuration box : hvcC+dvcC
Audio #1
Identifier : 2
Format : AC-3
Format/Info : Audio Coding 3
Commercial Name : Dolby Digital
Codec Identifier : ac-3
Duration : 1 hr 40 min
Bit rate type : Constant
Bit rate : 384 Kbps
Maximum bit rate : 406 Kbps
Channels : 6 channels
Channel layout : LRC LFE Ls Rs
Frequency : 48.0 kHz
Frame rate : 31.250 fps (1536 SPF)
Compression method : Lossy
Stream size : 277MB (1%)
Title : Dub, iTunes
Language : Russian
Service kind : Complete Main
Encode date : UTC 2022-05-12 18:12:04
Tag date : UTC 2022-05- 12 18:12:16
Audio #2
Identifier : 3
Format : AC-3
Format/Info : Audio Coding 3
Commercial Name : Dolby Digital
Codec ID : ac-3
Duration : 1h 40m
Bitrate Type : Constant
Bitrate : 640Kbps
Max Bitrate : 676 Kbps
Channels : 6 channels
Channel layout : LRC LFE Ls Rs
Frequency : 48.0 kHz
Frame rate : 31,250 fps (1536 SPF)
Compression method : Lossy
Stream size : 462 MB (2%)
Title : VO, M. Yarotsky
Language : Russian
Service kind : Complete Main
Default : None
Alternate group : 1
Date p Tags : UTC 2022-05-12 18:12:16
Audio #3
Identifier : 4
Format : AC-3
Format/Info : Audio Coding 3
Commercial name : Dolby Digital
Codec ID : ac-3
Duration : 1h 40m
Bitrate type : Constant
Bitrate : 448Kbps< br/> Max bit rate : 473 Kbps
Channels : 6 channels
Channel layout : LRC LFE Ls Rs
Frequency : 48.0 kHz
Frame rate : 31.250 fps (1536 SPF)
Compression method : Lossy
Stream size : 323 MB (2%)
Title : Dub, iTunes
Language : Ukrainian
Service kind : Complete Main
Default : None
Encode Date : UTC 2022-05-12 18:12:10
Tag Date : UTC 2022-05-12 18:12:16
Audio #4
ID : 5
Format : AC-3
Format/Info : Audio Coding 3
Commercial name : Dolby Digital
Codec ID : ac-3
Duration : 1h 40m.
Type of bitrate : Fixed
Bitrate : 640Kbps
Max Bitrate : 676Kbps
Channels : 6 Channels
Channel layout : LRC LFE Ls Rs
Frequency : 48.0 KHz
Frame rate : 31.250 fps (1536 SPF)
Compression method : Lossy
Stream size : 462MB (2%)
Title : Original
Language : English
Service kind : Complete Main
Default : None
Alternate group : 1
Tag date : UTC 2022-05-12 18:12:16
Text #1
Identifier : 6
Format : Timed Text
Codec identifier : tx3g
Duration : 1h 38m
Bitrate type : Variable
Bitrate : 5 bps
Stream Size : 3.46 KB (0%)
Header : Forced
Language : Russian
Default : Yes
Forced : No
Alternate group : 2
Encode date : UTC 2022-05-12 18:12:16
Tag date : UTC 2022-05-12 18:12:16
Text #2
Identifier : 7
Format : Timed Text
Codec Identifier : tx3g Duration : 1h 40m.
Bitrate Type : Variable
Bitrate : 135 bps
Stream Size : 99.6Kb (0%)
Header : Full
Language : Russian
Forced : None
Encode Date : UTC 2022-05-12 18:12:16
Stamp Date : UTC 2022-05-12 18:12: 16
Text #3
Identifier : 8
Format : Timed Text
Codec Identifier : tx3g
Duration : 1h 38m
Bitrate type : Variable
Bitrate : 5 bps
Stream size : 3.51 Kb (0%)
Header : Forced
Language : Ukrainian
Forced : No
Encode date : UTC 2022-05-12 18:12:16
Tag date : UTC 2022-05-12 18:12:16
Text #4
Codec identifier : 9
Format : Timed Text
Codec identifier : tx3g
Duration : 1 hour 40 minutes
Bitrate type : Variable
Bitrate : 130 bps< br/> Stream Size : 95.6 Kbytes (0%)
Title : Full
Language : Ukrainian
Forced : No
Code Date Value : UTC 2022-05-12 18:12:16
Tag date : UTC 2022-05-12 18:12:16
Text #5
Identifier : 10
Format : Timed Text
Codec ID : tx3g
Duration : 1h 38m
Bitrate Type : Variable
Bitrate : 91 bps
Stream Size : 65.4 KB (0%)
Title : Full
Language : English
Forced : No
Encoding date : UTC 2022-05-12 18:12:16
Tag Date : UTC 2022-05-12 18:12:16
Text #6
Identifier : 11
Format : Timed Text
Codec Identifier : tx3g< br/> Duration : 1h 38m.
Bitrate Type : Variable
Bitrate : 98 bps
Stream Size : 70.7Kb (0%)
Header : SDH
Language : English
Forced : None
Code Date : UTC 2022-05-12 18:12:16
Mark Date : UTC 2022-05-12 18:12: 16
Text #7
Identifier : 12
Format : Timed Text
Codec Identifier : tx3g
Duration : 1h 39m
Bitrate Type : Variable
Bitrate : 120bps
Stream Size : 87.4Kb (0%)
Title : SDH Colored
Language : English
Forced : No
Encode Date : UTC 2022-05-12 18:12:16
Mark Date : UTC 2022-05-12 18:12:16
Menu
00 :00:00.000 : Chapter 01
00:10:48.356 : Chapter 02
00:19:28.959 : Chapter 03
00:29:58.004 : Chapter 04
00:39 :53.599 : Chapter 05
00:50:45.667 : Chapter 06
01:02:38.421 : Chapter 07
01:13:40.249 : Chapter 08
01:25:41.386 : Chapter 09
01:37:41.939 : Chapter 10
01:40:51.712 : Chapter 11
Release from:

Dolby Vision Torrents