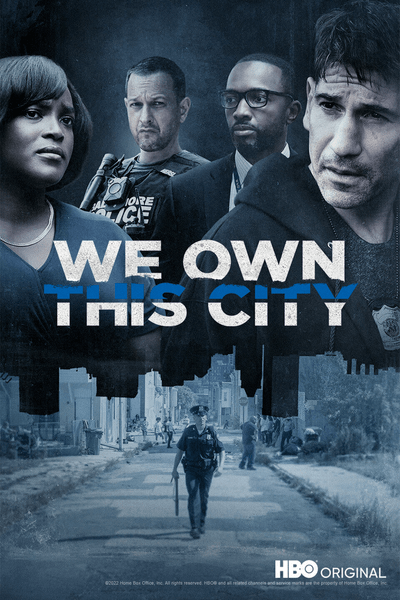 Movie Information
Title: We Own This City
Título original: We Own This City
Release year: 2022
Genre: drama , crime
Directed by: Reinaldo Marcus Green
Cast: David Corenswet, McKinley Belcher III, Dagmara Dominczyk, Don Harvey, Gabrielle Carteris, Trey Cheney, Ian Duff, Delaney Williams, Jon Bernthal, Wunmi Mossaku
About the film: 2017, Baltimore, Maryland. Police officers from the special unit to combat illegal arms trafficking feel like the masters of life, break the law and take bribes. The punishment will not be long in coming: they will all end up in the dock.
No wonder David Simon and his regular collaborators Ed Burns and George Pelicanus tell the real story of American police corruption. Baltimore is the showrunner's hometown and the setting for his The Wire. The main role – the corrupt cop Wayne Jenkins – was played by Jon Bernthal.

The country:

USA
Studio: Crime Story Media, Home Box Office (HBO)
Duration: ~01:00:00 episode
Translation: Professional (polyphonic, off-screen) HDrezka Studio
File
Quality : WEB-DLRip
Format : AVI
Video : 704×352 at 23.976 fps, XviD, ~1500 kbps avg
Audio :

Russian: 48 kHz, MP3, 2/0 (L,R) ch, ~128 kbps avg |Censored|
Audio :

Russian: 48 kHz, MP3, 2/0 (L,R) ch, ~128 kbps avg |Uncensored, 18+|
Subtitles : Russian (Forced)
***Note: No ads
***Sound work: kogesan
***Attention! There is profanity!
mediainfo
Audio #1
Identifier : 1
Format : MPEG Audio
Format version : Version 1
Format Profile : Layer 3
Format Settings : Joint stereo / MS Stereo
Codec ID : 55
Codec ID/Hint : MP3
Duration : 58m 18 sec.
Bit rate type : Constant
Bit rate : 128 Kbps
Channels : 2 channels
Frequency : 48.0 kHz
Compression method : Lossy< br/> Stream Size : 53.4 MB (7%)
Alignment : Splicing Link
Gap Length : 42ms. (1.00 video frame)
Gap Preload Time : 504ms.
Audio #2
Identifier : 2
Format : MPEG Audio
Format Version : Version 1
Format Profile : Layer 3
Format Settings : Joint stereo / MS Stereo
Codec ID : 55
Codec ID/Hint : MP3
Duration : 58m 18
Bit rate type : Constant
Bit rate : 128 Kbps
Channels : 2 channels
Frequency : 48.0 kHz
Compression method : Lossy
Stream size : 53.4 MB (7%)
Alignment : Spliced connection
Gap length : 42ms. (1.00 video frame)
Gap Preload Time : 504ms
Distribution is carried out by adding new series