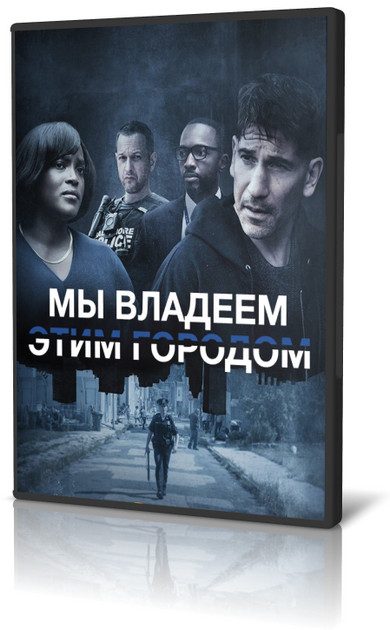 Movie Information
Title: We Own This City
Título original: We Own This City
Release year: 2022
Genre: Drama , Crime
Directed by: Reinaldo Marcus Green
Cast: David Corenswet, McKinley Belcher III, Dagmara Dominczyk, Don Harvey, Gabrielle Carteris, Trey Cheney, Ian Duff, Delaney Williams, Jon Bernthal, Wunmi Mossaku
About movie:
We Own the City is set in Baltimore in 2015. Riots break out across the city as citizens demand justice for Freddie Grey, a 25-year-old black man who died under suspicious circumstances while in police custody. Drug use and crime are on the rise, with the city reaching its highest homicide rate in over two decades: 342 homicides in one year in a city of just 600,000 people.


Country: USA
Studio: Crime Story Media, Home Box Office (HBO)
Duration: ~01:00:00 episode
Translation: Professional (polyphonic, off-screen) HDrezka Studio
File
Codec: MPEG-4 AVC
Quality: WEB-DL 1080p
Video: 1920×1080, ~8250 Kbps
Sound:
Audio 1: AC3, 6 ch, 384 kbps, Russian (HDRezka Studio)
Audio 2: AC3, 6 ch, 448 kbps, Russian (HDRezka Studio, Uncensored! 18+)
Audio 3: AC3, 6 ch, 384 kbps, Ukrainian (HDRezka Studio, Uncensored! 18+)
Audio 4: AC3, 6 ch, 384 kbps, English
Subtitles: Russian (Forced), Ukrainian (Forced), English (Full, SDH)
sample
Release from: Magnit Rus
Attention! There is profanity!
Distribution time: 24/7 (multitracker)
Sound work: leon899xxx, kogesan
mediainfo
Audio #1
Identifier : 2
Format : AC-3
Format/Info : Audio Coding 3
Commercial name : Dolby Digital
Codec ID : A_AC3
Duration : 58m 18s
Bitrate type : Constant
Bitrate : 384Kbps< br/> Channels : 6 channels
Channel layout : LRC LFE Ls Rs
Frequency : 48.0 kHz
Frame rate : 31.250 fps (1536 SPF)
Compression method : Lost and
Stream size : 160 MB (4%)
Title : HDrezka Studio (Censored)
Language : Russian
Service kind : Complete Main
Default : Yes
Forced : None
Audio #2
Identifier : 3
Format : AC-3
Format/Info : Audio Coding 3
Commercial Name : Dolby Digital
Codec ID : A_AC3
Duration : 58m 18s
Bitrate Type : Constant
Bitrate : 448Kbps
Channels : 6 channels
Channel layout : LRC LFE Ls Rs
Frequency : 48.0 kHz
Frame rate : 31.250 fps (1536 SPF)
Compression method : Lossy
Stream size : 187 MB (5%)
Title : HDRezka Studio
Language : Russian
Service kind : Complete Main
Default : No
Forced : No
Audio #3
Identifier : 4
Format : AC-3
Format/Info : Audio Coding 3
Commercial name : Dolby Digital
Codec identifier : A_AC3
Duration : 58 m. 18 sec.
Bit rate layout : Constant
Bit rate : 384 Kbps
Channels : 6 channels
Channel layout : LRC LFE Ls Rs
Frequency : 48.0 KHz
Frame rate : 31,250 fps (1536 SPF)
Compression method : Lossy
Stream size : 160MB (4%)
Title : HDRezka Studio
Language : Ukrainian
Service kind : Complete Main
Default : Yes
Forced : No
Audio #4
Identifier : 5
Format : AC- 3
Format/Info : Audio Coding 3
Commercial Name : Dolby Digital
Codec ID : A_AC3
Duration : 58m 18s
Bitrate Type : Constant< br/> Bit rate : 384 Kbps
Channels : 6 channels
Channel layout : LRC LFE Ls Rs
Frequency : 48.0 kHz
Frame rate : 31.250 fps ( 1536 SPF)
Compression method : Lossy
Stream size : 160MB (4%)
Language : English
Service kind : Complete Main
Default : Yes
Forced : No
Text #1< br/> Identifier : 6
Format : UTF-8
Codec Identifier : S_TEXT/UTF8
Codec Identifier/Info : UTF-8 Plain Text
Duration : 50m 36s .
Bitrate : 3 bps
Count of elements : 31
Stream size : 1.33 KB (0%)
Title : forced
Language : Russian< br/> Default : None
Forced : None
Text #2
Identifier : 7
Format : UTF-8
Codec Identifier : S_TEXT/UTF8< br/> Codec ID/Info : UTF-8 Plain Text
Duration : 13m 53s
Bitrate : 3bps
Count of elements : 9
Stream size : 313 bytes (0%)
Header : forced
Language : Ukrainian
Default : Yes
Forced : No
Text #3
Identifier : 8
Format : UTF-8
Codec ID : S_TEXT/UTF8
Codec ID/Info : UTF-8 Plain Text
Duration : 56m 43s
Bitrate : 92 bps
Count of elements : 1152
current : 38.6 KB (0%)
Language : English
Default : No
Forced : No
Text #4
Identifier : 9
Format : UTF-8
Codec ID : S_TEXT/UTF8
Codec ID/Info : UTF-8 Plain Text
Duration : 58m 6s
Bitrate : 105 bps
Count of elements : 1259
Stream size : 45.1 KB (0%)
Header : SDH
Language : English
Default : None
Forced : No
Menu
00:00:00.000 : en:Chapter 1
00:06:08.034 : en:Intro
00:07:37.082 : en:Chapter 2
00:57:00.000 : en:Credits
Distribution is carried out by adding new series