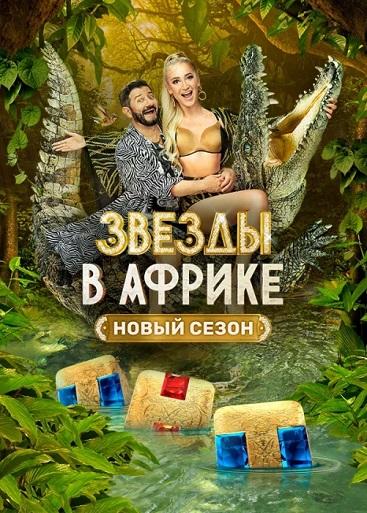 Movie Information
Title: Stars in Africa
Release year: 2022
Genre: TV show , reality show
Moderator: Olga Buzova, Mikhail Galustyan
Cast: Alena Vodonaeva, Karina Cross, Valya Karnaval, Natalia Rudova, Anatoly Tsoi, Anna Pokrov, Roman Yunusov, Maxim Lagashkin, Vyacheslav Chepurenko
About the film : Olga Buzova and Mikhail Galustyan will meet the stars again in the camp in the middle of the African jungle. Ten stars will fly to them, who will have to pass tests in order to earn portions of food for themselves and their team. If the challenge is too hard for the participants, they can stop it by shouting: "I'm a star! Take me away from here!" And in the new season, there will be much more reasons to give up and terminate the test ahead of schedule. The new season will be held under the brand of "spring aggravation". Its participants are those who are ready for crazy actions, do not hide their emotions, are not afraid to be real in front of the cameras and go to the end in the most extreme trials. Against the backdrop of stress, hunger and the jungle around, what is happening in Africa will become even brighter, more emotional and sudden. In the final, the strongest will receive 5 million rubles, which the producers will use to support endangered species of animals and funds that care about environmental protection.
Released: Russia
Studio: TV channel TNT
Duration : 11 x ~ 01:08:30
Translation : Not required
File
Quality : WEBRip 720p
Video : MPEG-4 AVC, ~3000 Kbps, 1280×720
Audio : AC3, 2 ch, 192 kbps
Distribution is carried out by adding new series
Release from :