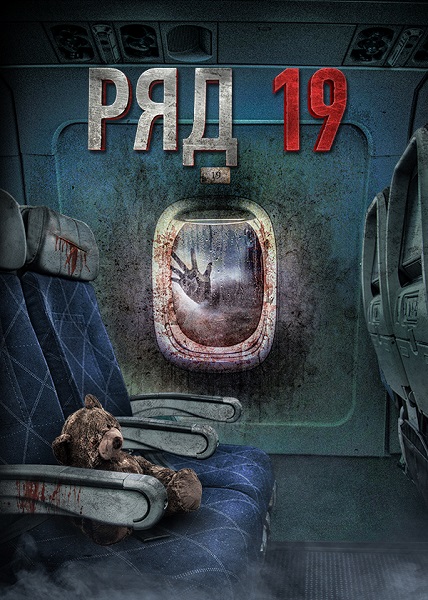 Movie Information
Title: Row 19
Release year: 2021
Genre: Thriller
Director: Alexander Babaev
Cast: Svetlana Ivanova, Wolfgang Czerny, Marta Kessler, Ekaterina Vilkova, Anatoly Kot, Vitalia Kornienko, Denis Yasik, Anna Glaube, Victoria Korlyakova, Ivan Verkhovykh
About movie:
A young doctor, Katya, and her 6-year-old daughter, Diana, are on a night flight in bad weather. In the half-empty cabin of the plane, inexplicable events begin to occur that go beyond reality. Katya will have to face her own fear and relive the main nightmare of her childhood nightmare.
Country: Russia
Studio: Central Partnership, KIT Film Studio, IKa film
Duration: 01:17:57
Language: Russian
File
Codec: MPEG-4 AVC
Quality: Blu-Ray (1080p)
Video: MPEG-4 AVC, 24036 kbps, 1920×1080
Audio: Russian (DTS-HD MA, 6 ch, 1608 kbps), German (DTS-HD MA, 6 ch, 1513 kbps)
Subtitles: German
mediainfo
DISC INFO:
Disc Title: ROW 19 – DER TODESFLUG
Disc Label: Row.19.Der.Todesflug.2021.DUAL.COMPLETE.BLURAY-SAViOURHD
Disc Size: 19,750,253,778 bytes
Protection: AACS
Extras: 50Hz Content
BDInfo: 0.7.5.8
PLAYLIST REPORT:
Name: 01001.MPLS
Length: 1:17:58.417 (h:m:s.ms)
Size: 16,814,212,992 bytes
Total Bitrate: 28.75 Mbps
VIDEO:
Codec Bitrate Deion
—– ——- ———–
MPEG-4 AVC Video 24036 kbps 1080p / 24 fps / 16 :9 / High Profile 4.1
AUDIO:
Codec Language Bitrate Deion
—– ——– ——- ———–
DTS-HD Master Audio German 1513 kbps 5.1 / 48 kHz / 1513 kbps / 16-bit (DTS Core: 5.1 / 48 kHz / 768 kbps / 16-bit)
DTS-HD Master Audio Russian 1608 kbps 5.1 / 48 kHz / 1608 kbps / 16-bit (DTS Core: 5.1 / 48 kHz / 768 kbps / 16-bit)
SUBTITLES: p>
Codec Language Bitrate Deion
—– ——– ——- ———–
Presentation Graphics Germa n 22.533 kbps
Presentation Graphics German 0.847 kbps
FILES:
Name Time In Length Size Total Bitrate
—- ——- —— —- ————-
00003.M2TS 0:00:00.000 1:17:57.500 16,812,251,136 28,754
00004.M2TS 1 :17:57.500 0:00:00.917 1,961,856 17,104
CHAPTERS:
Number Time In Length Avg Video Rate Max 1-Sec Rate Max 1-Sec Time Max 5-Sec Rate Max 5-Sec Time Max 10Sec Rate Max 10Sec Time Avg Frame Size Max Frame Size Max Frame Time
—— ——- —— ——– —— ————– ————– ————– — ———— ————– ——————————– —- ————– ————–
1 0:00:00.000 0:04:06.333 20.715 kbps 34.885 KBPS 00: 02: 41.000 27.385 KBPS 00: 01: 27.750 26.008 KBPS 00: 40.291 637,838,755 Bytes483.410 Bytes 00: 02: 19.541
2 0: 06.333 0: 57.708 24.848 24.84.24.848 KBPS :05:49.208 27.073 kbps 00:04:08.041 25.997 kbps 00:04:08.166 0 bytes 731.544 bytes 00:05:11.083
3 0:15:04.0 41 0:06:53.999 24.986 kbps 35.476 kbps 00:17:22.583 26.897 kbps 00:17:22.458 25.866 kbps 00:17:22.583 0 bytes 530.041 bytes 00:19:02.290 4 08:40.500 24.448 kbps 36.367 kbps 00:27:29.916 27.150 kbps 00:27:29.916 26.094 kbps 00:22:32.541 0 bytes 514.470 bytes 00:24:42.083
3 0:40:08 24,986 KBPS 34.446 KBPS 00: 34: 41.500 27,110 KBPS 00: 34: 07.958 26.015 KBPS 00: 35: 21.916 0 Bytes 481.034 Bytes 00: 23.416
6 0: 49.54 KB kbps 00:44:23.750 26.961 kbps 00:44:23.791 26.089 kbps 00:48:05.208 0 bytes 471.129 bytes 00:40:00.125
7 0:48:40.791 0:02:30.958 kb5 24.970 49:13.958 26.777 kbps 00:49:13.958 26.130 kbps 00:49:13.750 0 bytes 26,467 KBPS 00: 52: 54.708 25.920 KBPS 00: 53: 13.250 0 Bytes 585.020 Bytes 00: 51: 52.458
9 0: 54: 07.833 0: 07: 11.833 25.004 KBPS 34,054 KBPS 01: 00: 32.16.57 2: 00: 32.16.57 :57: 49.416 25,799 kbps 00:57:29.458 0 bytes 552,100 bytes 00:58:37.875
10 1:01:19.666 0:07:39.499 24,990 kbps 35,229 kbps 01:05:39.541 26,989 kbps 01:05:40.000 26,085 kbps 01:06:25.500 0 bytes 590,719 bytes 01:04:03.041
11 1:08:59.166 0:05:28.333 24,546 kbps 35,853 kbps 01:12:57.166 27,569 kbps 01:11:00.95 :09.708 0 bytes 536,403 bytes 01:09:15.000
12 1:14:27.500 0:03:30.917 11,917 kbps 22,841 kbps 01:15:37.916 21,640 kbps 01:15:34.916 21,291 kbps 01:15:31.083 14,281,730 bytes228,813 bytes 01:15:38.916
STREAM DIAGNOSTICS:
File PID Type Codec Language Seconds Bitrate Bytes Packets
—- — —- —– ——– ————– ————– ——— —- —–
00003.M2TS 4113 (0x1011) 0x1B AVC 4677.417 24,039 14,054,922,011 76,450,796
00003.M2TS 4352 (0x1100) 0x86 DTS-HD MA deu (German) 4677.417 1,513 884,879,968 5,262,089
00003.M2TS 4353 (0x1101) 0x86 DTS-HD MA rus (Russian) 4677.417 1.608 940.312.464 5.562.990 < Br/> 00003.m2ts 4608 (0x1200) 0x90 PGS Deu (German) 4677.417 23 13,172,144 77,234
00003.m2TS 4609 (0x1201) 0x90 PGS DEU 4677.417 1 489.755 2.8 0x1011) 0x02 MPEG-2 0.876 15.049 1.647.628 8.976
00004.M2TS 4352 (0x1100) 0x86 dts-hd ma deu (German) 0.876 954 104.448 672
00004.m2TS 4353 (0x1101) rus (Russian) 0.876 954 104.448 672
00004.M2TS 4608 (0x1200) 0x90 PGS deu (German) 0.876 50 5.476 35
00004.M2TS 4609 (0x1201) 0x94 PGS deu (German) 0.85 0.5
[/code]
QUICK SUMMARY:
Disc Title: ROW 19 – DER TODESFLUG
Disc Label: Row.19.Der.Todesflug .2021.DUAL.COMPLETE.BLURAY-SAViOURHD
Disc Size: 19,750,253,778 bytes
Protection: AACS
Playlist: 01001.MPLS
Size: 16,814,212,992 bytes
Length: 1 :17:58.417
Total Bitrate: 28.75 Mbps
Video: MPEG-4 AVC Video / 24036 kbps / 1080p / 24 fps / 16:9 / High Profile 4.1
Audio: German / DTS- HD Master Audio io / 5.1 / 48 kHz / 1513 kbps / 16-bit (DTS Core: 5.1 / 48 kHz / 768 kbps / 16-bit) / 16-bit (DTS Core: 5.1 / 48 kHz / 768 kbps / 16-bit)
Subtitle: German / 22.533 kbps
Subtitle: German / 0.847 kbps