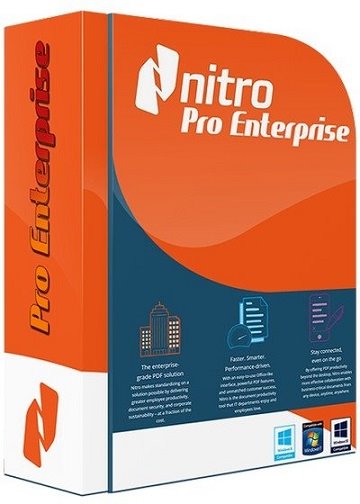 Software version : 13.61.4.62
Official site : Nitropdf
Interface language : Russian, English
Treatment : not required (the installer has already been treated)
System requirements :
Operating system : Windows 8, 8.1, 10, Server 2012, 2012 R2 (64-bit), 2016, 2019 (32-bit/64-bit)
Processor : Any 1.5 GHz
RAM : 1 GB
Free disk space : 4.5 GB
Compatible with Microsoft Office : 2013, 2016, 2019 (32-bit/64-bit)
Description :
Nitro Pro is a powerful set of tools for creating and editing PDF files.
Nitro Pro – a program that is an alternative to Adobe Acrobat, allows you to batch process files and scan a document directly to PDF, has the ability to combine multiple files into one, convert documents to PDF from more than three hundred different file types.
Supports exporting files from various office applications such as Microsoft Word, Excel and PowerPoint.
The contents of the generated files can be encrypted with a high degree of protection (40 or 128 bits). The proposed solution offers an excellent alternative to the popular Adobe Acrobat software and provides everything you need to prepare business documents in PDF format.

RePack features:

1 must be installed in the system for installation and operation of the program. Combined in one distribution kit (x86/x64) versions
2. No registration required (Soda120 patch)
3. Interface language English / Russian (crack)
4. Program installation in standard or automatic "
5. Picks up the external settings file settings.reg (if located next to the installer)

"Silent" installation with the keys /SILENT or /VERYSILENT (or the file "Silent Install.cmd" )

Note!!! During installation, you will be prompted to visit the site of the author of the repack. Untick as desired.