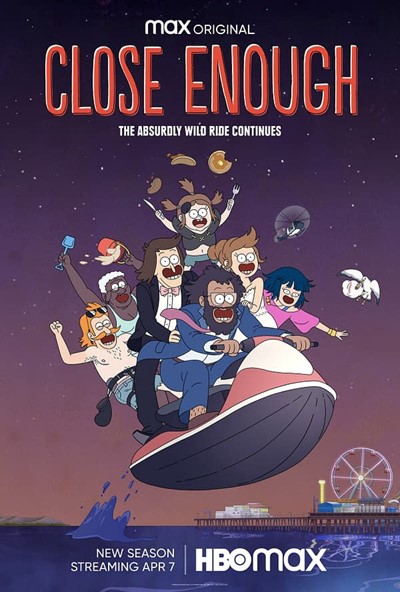 Series information:
Title: Close Enough
original name: Close Enough
Release year: 2022
Genre: Animated series , science fiction , fantasy , drama , comedy , parody , black humor
Directed by: Calvin Wong, Sean Sheles, J.J. Quintel
Cast: J.J. Quintel, Gabrielle Walsh, Jason Mantzoukas, Kimiko Glenn, Jessica DiCicco, James Adomian, Danielle Brooks, John Early, Fred Tatasciore, Andres Salaff
Description of the series:
The plot is dedicated to the life of people who entered, perhaps, the most exciting time of their youth. A lot of interesting things happen between the ages of twenty and thirty. Many people are looking for ways to solve everyday problems and experiment with ideas. Of course, sometimes work, friends and parties make themselves felt, because one way or another, youth was recent, and few people want to let it go. Suddenly, the time of parental responsibility comes, when children appear, and adults unexpectedly discover that they are simply unbearable and uncontrollable. All in all, the show is all about that – the lives of young people who are trying to be adults.


Released: USA
Duration: 8x ~ 00:22:00
Translation: professional (multi-voiced voice-over) NewStation
File
Quality : WEBRip
Format : AVI
Video : XviD, ~ 1073 Kbps, 720×400
Audio: Russian, English (MP3, 2 ch, 128 Kbps)
Subtitles: None
Advertising: None
Released by: NewStation
Add. info: There is profanity!