---
---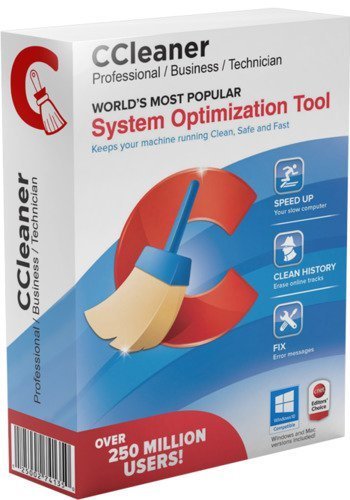 Title: CCleaner
Official website address: Piriform
Software version: 6.00.9727
Interface language: Russian | English | Ukrainian.
Tablet: Not required (installer already cured)
System requirements :

Windows 10, 8.1, 8, 7. Including both 32-bit and 64-bit versions.
Description :
CCleaner is a utility for cleaning garbage in the operating system. In the course of its work, CCleaner (Crap Cleaner) searches for and removes temporary and unused files. These include: cookies, browsing history in IE, temporary Internet files, search strings, Recycle Bin files, etc. Search for temporary files of third-party applications is also supported: Firefox, Opera, Media Player, eMule, Kazaa, Google Toolbar, Netscape, Office XP, Nero, Alcohol 120, Adobe Acrobat, WinRAR, WinAce, WinZip, GetRight, Morpheus, Download Accelerator Plus, VirtualDub , ZoneAlarm and many others. You can also clean up the Windows registry, ridding it of unnecessary extensions, old dlls, and incorrect paths that accumulate in considerable numbers, especially after installing and uninstalling various programs. By doing all these operations on your system, you will not only free up disk space, but also increase the performance of the system as a whole.

---
---
RePack features:
CCleaner editions command line switches:
• Professional: Default.
• Business: /BC.
• Technician: /TC.
• Free: /NC.
Keys command line:
• Silent install: /V
• Silent unpack: /V /P
• Do not create desktop shortcut: /ND
• Don't create a shortcut in the Start menu: /NS
• Pin a shortcut to the taskbar: /T
• Pin a shortcut to the start menu: / S
• Enable auto-update: /A
• Interface language – Russian: default
• Interface language – English: /E< br/> • Interface language – Ukrainian: /U
• Selecting the installation location: /D=Path
Key /D=Path should be specified last.
< b>Example: installer.exe /V /P /D="D:CClean er Pro Portable"
PS After installation, lighten the winapp2.ini filter:
Run CCEnhancer -> Advanced -> Lighten winapp2.ini.
In the portable version, CCEnhancer is located along the path: portable folder versions of AppCCleaner.
---
---
---
---