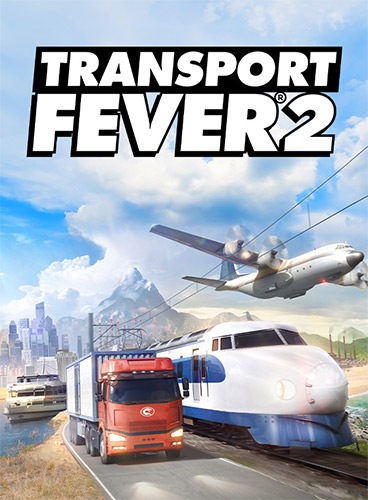 Transport Fever 2
v35044 (Spring Update)
---
Release date: December 11, 2019; Spring Update – 10 May 2022
Genre: Managerial , Strategy , Real-time , 3D
Developer: Urban Games
Publisher: Good Shepherd Entertainment
Platform: PC
Engine: in-house
Steam user ratings: 87% of user reviews are positive (13,528 reviews)
---
Interface language: Russian, English, French, German, Spanish (Spain), Dutch, Japanese, Polish, Simplified Chinese, Traditional Chinese
Voice language: English, German
Edition type: Repack
Medicine: sewn in (from the SKiDROW group)
---
System requirements:
OS: Windows 7/8/10 (x64)
Processor: Intel i5-2300 or AMD FX-6300
Memory: 8 GB
Video: NVIDIA GeForce GTX 560 (2 GB) or AMD Radeon HD 7850 (2 GB)
DirectX: 9.0c/10/11/12
Disk space: up to 24.6 GB
ATTENTION! The minimum repack size is 9.4 GB. Please read the "Features of the repack" section carefully before downloading.
---
Description:
Transport Fever 2 is the new gold standard in the transport simulation genre. Explore a new world moving on land, water and air. Long live progress and prosperity!
Provide the whole world with transport infrastructure and get rich by providing special transport services. Your trains will travel on railways, buses and trucks will travel on highways, ships will surf the seas, and planes will soar in the sky. Help people get to work and leisure, and let cities thrive thanks to you. Deliver raw materials and goods necessary for the development of the economy. Challenge the greatest logistical challenges from 1850 to the present day and build a transportation empire like no other!
Get limitless creative possibilities in Free Play mode and rewrite the history of transportation across three continents in Campaign mode. Transport Fever 2 features over 200 vehicles from Europe, America and Asia, modeled with incredible attention to detail, and with the in-game map editor you can recreate landscapes from three different climate zones. Finally, the gameplay is enhanced with realistic transportation and economy simulation and comprehensive mod support.
Open the world:
A huge game world is waiting for your railways, cars, planes and ships. Intuitive interactive rail building tools and a modular station building system make it easy to build and expand your transportation empire, and with tons of configuration options, each Freemode game is full of new challenges that require a different approach.
Write the history of transport:
Three historical campaigns in different time periods on three different continents – each with its own tasks… Only real transport tycoons will be able to complete all the missions. Voiceovers and cutscenes enrich the story and add to the addictive gameplay, while the Free Play mode is full of achievements to unlock.
Optimize infrastructure:
You have to adapt the company to the needs of the economy and cities. Bridges, tunnels, junctions, railroad signals, one-way streets, traffic lights, and bus lanes are just some of the things you can use to optimize your transportation infrastructure. Even train stations and airports can be expanded with modules to suit different needs, and various information screens help visualize traffic and pollution levels and provide information for further improvements.
Unleash your creativity:
Thanks to the incredibly high detail of the game world, you can create your own virtual railway network: the map editor allows you to create countless worlds, paint and modify their landscape. Mod support means you'll always have access to new maps, available for free from the Steam Workshop.
---
The Spring Update expands on the existing game and offers new features and options to customize your gameplay experience.
New challenges and game options
More control over roads and shipping lanes
Improved cargo and passenger management
More fun and features
Improved modding support
Many other improvements
Game features
Fully customizable Free Play mode
Three campaigns spanning three continents over 20 hours
Map and save editor
< /li>
Three types of climate: temperate, dry and tropical
Realistic vehicles from Europe, America and Asia
Over 200 vehicles including trains, buses, cars, trucks, planes and ships
Modular train, bus and freight stations, airports and harbors
Realistic transportation simulation, including one-way streets and traffic lights
Customizable terrain with realistic effects
Intuitive tools for building railroads and more
li>
Display important information such as pollution levels and highway congestion on separate map layers
Dynamic simulation of the economy and city
More a dozen economic chains with their factories and manufactured goods
Cities with countless residential, commercial and industrial buildings
A detailed game world with lighting according to the laws of physics
Custom-simulated animals, birds, and fish
Over 50 Free Play achievements
Steam mods Workshop
Repack Features
The repack is based on the Transport.Fever.2.Spring-SKIDROW ISO: sr-transportfever2spring.iso (18,391,908,352 bytes)
Game version: Build 35044
li>
100% Lossless and MD5 Perfect: all files after installation are identical to the original release to the bit
NOTHING cut, NOTHING recoded
< li> Possibility not to download or install German voiceovers
Significantly improved compression (from 17.1 to 9.4/10.1 GB)
Installation takes 6-10 minutes
After installation, the game takes up to 24.6 GB
After installation, the option to check the checksums of all files is available to make sure that the repack was installed normally
The language can be changed in the game settings
To install the repack, you need at least 2 GB of free RAM (including virtual)
In the repack using XTool library by Razor12911

[Repack] by FitGirl
Problems installing and running repacks? (not just mine)
If you get errors when installing my or any other repacks (especially Xdelta or with Unarc.dll), try the following:
Rehash the torrent! – for example in uTorrent you need to select a game, press stop, press the right mouse button and select "Force re-check".
Make sure that your username in Windows does not contain Russian or other non-Latin letters – only Latin letters and numbers are allowed
Disable the antivirus – it can falsely work for drugs, which will either interrupt the installation of the repack, or simply prevent the game from starting
Disable UAC – it can block unpacking/assembling programs inside the installer
Make sure that the size of your virtual memory (swap file) is at least as much as the amount of physical memory, and preferably twice as much.
Make sure you have enough space on the destination hard drive, as well as on the Windows temporary files drive.
I'll try Install the game NOT on the C: drive, or vice versa – ON the C: drive, if it is not installed on another one – the rights in Windows are like this…
(and deeper) of the unarc.dll file. If it exists, remove it
Run the installer with rights as shown in the picture ("Properties" menu when you right-click on the file):