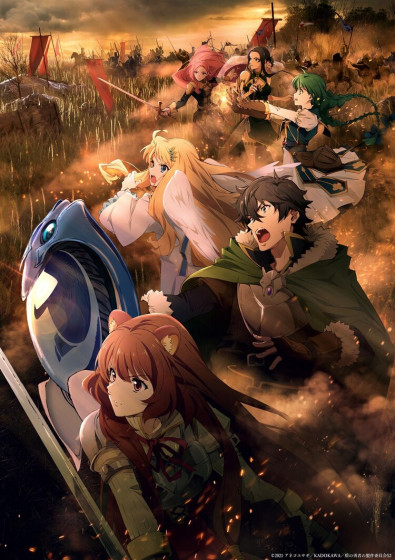 Title: The Rising of the Shield Hero
Tate no Yuusha no Nariagari Season 2 (The Rising of the Shield Hero Season 2)
Release year: 2022
Genre: Adventure , fantasy , animated series
Released: Japan, Cinema Citrus
Directed by: Masato Jimbo
Cast: Kaito Ishikawa, Asami Seto, Rina Hidaka, Yoshitsugu Matsuoka, Makoto Takashi, Yoshitaka Yamaya, Maaya Uchida, Sara Amy Bridcutt, Yutaka Nakano, Hiroki Yasumoto
About movie:
Naofumi Iwatani, along with three other people, was summoned to a parallel world to become its Hero. When transferred to another world, each of them received special equipment that corresponds to the type of Hero. Our protagonist got a legendary shield in his hands and decided to go on a journey through this fabulous world.


world-art
File
Quality: WEBRip (1080p)
Video: MPEG-4 AVC, ~ 8000 Kbps, 1920×1080
Audio: Russian (AAC, 2 ch, 192 Kbps), Japanese (AAC, 2 ch, 128 Kbps)
Size: 2.76 GB
Duration: 2 x ~ 00:24:00
Translation: Amateur polyphonic (AniPlague)
Subtitles: Russian, English (Softsub)
Release from:
Release group: Plague Studios
Voice: AniPlague
Attention! Release without ads!