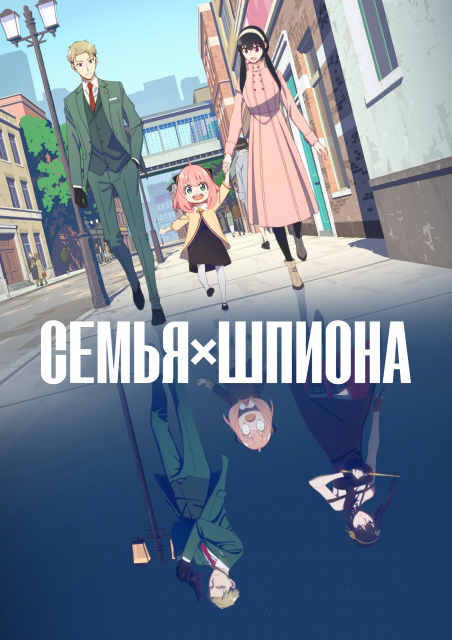 Movie Information
Title: The Spy's Family
Título original: Spy x Family
Release year: 2022
Genre: Adventure , Comedy , Drama , Shounen
Directed by: Kazuhiro Furuhashi
About movie:
Who comes to mind when it comes to secret agents? Of course, the incredible James Bond, who constantly endangers life by performing secret missions. Many ladies dream of such a charismatic and courageous man, so Agent 007 bathes in the rays of female attention. The hero of this story, Lloyd Forger, is the "James Bond" of his time. Chases, espionage, shootouts, secret missions – all this is an integral part of his life. Having finished one task, he immediately takes on another – fatigue is unknown to him. However, this time the mission turns out to be a little unusual: he must keep the peace between the two countries, and for this he will have to acquire a fictitious family. The role of the "fatal beauty from Bondiana", and part-time wife of Lloyd, goes to Yor Forger, a professional assassin with the code name Thorny Princess. To complete the picture, it remains to get another child, and esper Anya Forger is only too happy to get herself cool new parents. Now the new family will not only have to complete a secret mission without revealing themselves, but also understand that the family is much more than just blood relatives.


Country: Japan
Duration: ~ 00:23:40
Translations:
Dubbed | Force Media [Crunchyroll]
Professional (polyphonic, voice-over) | Studio Band
File
Format: MKV
Codec: MPEG-4 AVC
Quality: WEBRip 1080p
Video: 1920×1080, ~ 8000 kb/s, 23.976 FPS. 8 bits
Audio (Russian): AAC LC, ~ 128 kb/s, 2 channels, 44.1 kHz | Force Media
Audio (Russian): AAC LC, ~ 318 kb/s, 2 channels, 48.1 kHz | Studio Band
Audio (Japanese): AAC LC, ~ 128 kb/s, 2 channels, 44.1 kHz | Original
Subtitles: Russian inscriptions, full (switchable) | [Crunchyroll]
---
Release from:

---
---

---
05/12/2022 updated. Added episode 3 and voice acting from StudioBand. Happy viewing.