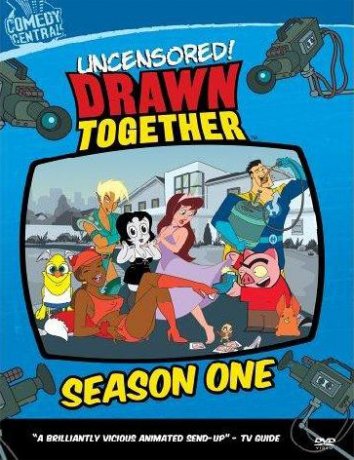 Movie Information
Title: Crazy Behind Glass / Multi-reality
original name: Drawn Together
Year of release: 2004-2008
Genre : Animation , Comedy , Parody , Adult
Creators : Peter Avanzino, Duane Carey-Hill, Frank Marino, Rich Moore, Steven Sandoval, James Purdum
About movie :
Eight drawn psychopaths in one house are fighting for their lives, animators are watching them day and night and fixing everything on a million cameras. Each hero has his own problems, but no one will come to the rescue. Everything will only get worse from there. The first and only multi-reality show in the world!

Released : USA, Comedy Central
Duration : 36 x ~ 00:22:00
Translation : Dubbed
File
Format : MKV
Quality : WEBRip 1080p
Video : MPEG-4 AVC, ~4800 Kbps, 1440×1080
Audio : Russian, English (AC3, 2 ch, 192 Kbps)
Subtitles: Russian (for untranslated scenes), English
Advertising: None
Release: WAD79
The uncensored version of the series contains fragments that were not shown on TV, translated with subtitles.