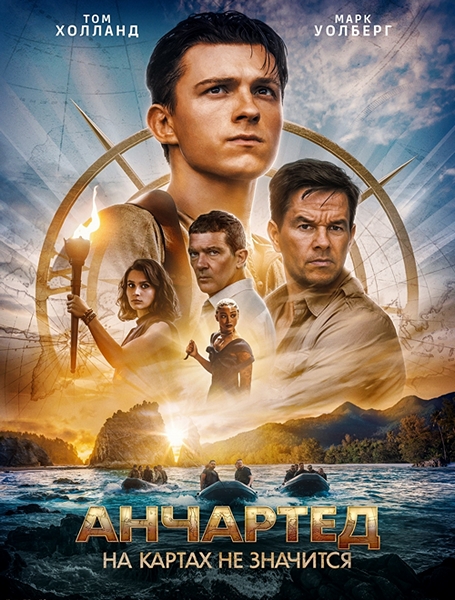 Release year:
2022
Production:
USA, Spain
Genre: Adventure , Action

Duration: 01:55:50

Translation: Professional (poly-voiced voice-over)

Subtitles: Russian (Forced, Full), Ukrainian (Forced, Full), English (Forced, Full, SDH, SDH-Colored)

Chapter navigation: yes

---
Directed by: Ruben Fleischer
Cast: Tom Holland (II), Mark Wahlberg, Antonio Banderas, Sophia Taylor Ali, Tati Gabriel, Patricia Meaden, Sarah Jacqueline Petric

---
Synopsis:
Nathan Drake hasn't seen Sam's older brother in 15 years since he ran away from the orphanage. The guy works as a bartender and trades in petty theft, when Victor Sullivan, nicknamed Sully, comes up to him and offers to go in search of the long-lost treasures of Magellan. After learning that Sally knows Sam, Nathan agrees to the adventure, hoping to also find his brother.
---
Budget: $120,000,000

---
---
Quality:
BDRip 1080p
Format: MKV

Video: AVC, 1920×804 (2.40:1), 12096 kbps, 23.976 fps

Audio#1: 48 kHz, E-AC3, 5.1, 1024 kbps | HDRezka Studio

Audio#2: 48 kHz, E-AC3, 5.1, 1024 kbps | Jaskier

Audio#3: 48 kHz, AC3, 2.0, 192 kbps | TV Shows

Audio#4: 48 kHz, AC3, 5.1, 384 kbps | UKR-DUB

Audio#5: 48 kHz, AC3, 5.1, 384 kbps | UKR – MVO

Audio#6: 48 kHz, E-AC3, 5.1, 1024 kbps | ENG