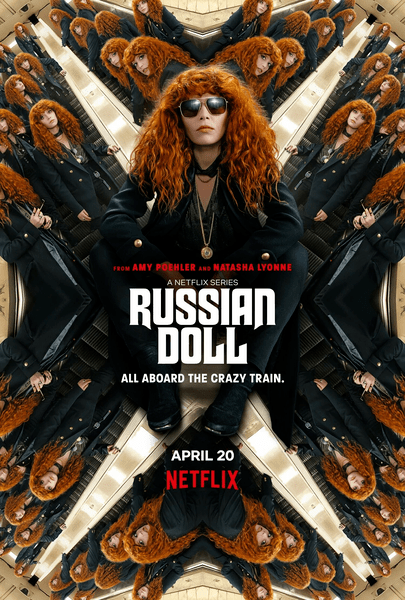 Movie Information
Title : Matryoshka life / Matryoshka
original name : Russian Doll
Year of release : 2019-2022
Genre : Comedy , Fantasy , Detective , Drama
Directed by : Lesley Headland, Jamie Babbitt, Natasha Lyonne
Cast : Natasha Lyonne (Nadia) , George Aloy (Party Guest) , Elizabeth Ashley (Ruth) , Jessica Whitney Davis (Madonna) , Whitney Devlin (Cindy Sherman) , Brendan Sexton III (Horse) , Tony Sorensen (Bartender) , Steven Edley Guirgis (Peter) , Emmanuel Lopez Alonso (Waiter) , Charlie Barnett (Alan) , Jocelyn Bioh (Claire) , Jeremy Bobb (Mike)
About the film : Every person sometimes dreams of rewinding time in order to rewrite the pages of his biography and avoid the mistakes of the past. Probably, it is for this reason that the audience has a special love for film and television projects in the spirit of the legendary Groundhog Day. Stories about people who have to return hundreds of times on the same day have been successful in a variety of genres – from hilarious comedies to chilling horror. The management of the Netflix online service decided that this format, like no other, is asking for fertile television soil. "Matryoshka" is a captivating series from the leader of the global streaming industry, created by star playwright Leslie Headland, brilliant comedian Amy Poehler and talented actress Natasha Lyonne. The creative triumvirate went on a bold experiment and mixed several genres at once in the project. As a result, a truly innovative and non-trivial interpretation of the Groundhog Day theme was born, which can evoke the whole gamut of emotions in the audience – from Homeric laughter to hopeless sadness.
Nadia Vulvokov (Natasha Lyonne) is a sarcastic New York City programmer who once worked for a major gaming corporation and now freelances. On the day of her 36th birthday, the main character begins to clearly understand that she is showing the first symptoms of a midlife crisis. Although her friends have thrown a fancy party for her, Nadya can't shake her blues off her feelings about her missing cat. A series of strange events leads the birthday girl to the street, where she finally finds a pet. Before Nadia has time to call out to her four-legged friend, she is hit by a car. To the surprise of the woman, she wakes up not in a hospital room, but in the bathroom at her birthday party. At first, Nadia thinks that everything that happened to her was just a hallucination after taking drugs, but soon she faces the terrible truth – she fell into a mysterious time loop and is forced to relive the events of the ill-fated evening again and again.

Country :

USA
Studio : 3 Arts Entertainment, Jax Media, Netflix
Duration : ~00:25:00 episode
Translation : Professional (polyphonic, off-screen) LostFilm
File
Quality : WEB-DLRip
Format : AVI
Video : 704×352 at 23.976 fps, XviD, ~1600 kbps avg
Audio :

Russian: 48 kHz, MP3, 2/0 (L,R) ch, ~128 kbps avg |Voiceous offscreen, LostFilm|
Subtitles : Russian (Forced)
***Note: No ads
List of episodes
01. Nothing in This World Is Easy
02 The Great Escape
03 A Warm Body
04 Alan's Routine< br/> 05. Superiority Complex
06. Reflection
07. The Way Out
08. Ariadne
Season 2
p>
01. Out of Time / Nowhen
02. Coney Island Baby
03. Brain Drain
04. Station to Station
05. Exquisite Corpse
06 Schrödinger's Ruth
07 Matryoshka
Distribution is carried out by adding new series