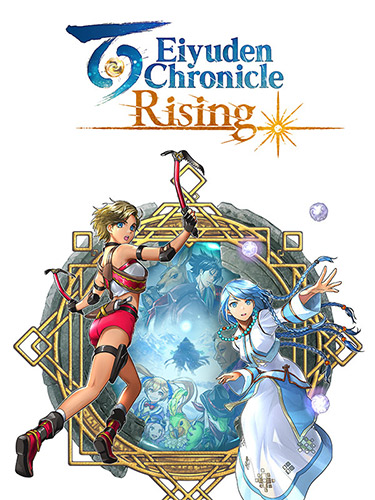 Eiyuden Chronicle: Rising
---
Release Date: May 10, 2022
Genre: Action , RPG , Managerial , Fantasy , Japanese , Side , 3D
Developer: Natsume Atari
Publisher: 505 Games
Platform: PC
Engine: Unity
Steam User Ratings: Not enough ratings
---
Interface language: Russian, English, French, Italian, German, Spanish (Spain), Spanish (Latin America), Japanese, Korean, Portuguese (Brazil), Simplified Chinese, Traditional Chinese
Voice language: no
Edition type: Repack
Medicine: sewn (from the FAiRLiGHT group)
---
System requirements:
OS: Windows 7/8.1/10 (x64)
Processor: AMD FX-4350 / Intel Core i3-3210
Memory: 4 GB
Video: AMD Radeon R7 260X (2 GB) / NVIDIA GeForce GTX 750 (2 GB)
DirectX: 9.0c/10/11/12
Disk space: 4.3 GB
---
Description:
Eiyuden Chronicle: Rising is an action role-playing city builder set in the same world as Eiyuden Chronicle. It brings together the pre-war stories of various characters who will eventually become your companions in the Eiyuden Chronicle.
The game's original storyline will feature some of the Eiyuden Chronicle characters with exciting action and exciting city-building elements.
It is also possible to provide small bonuses to players that will link the game with Eiyuden Chronicle: Hundred Heroes
---
Repack features
The repack is based on the Eiyuden_Chronicle_Rising-FLT ISO image: flt-eiyuden_chronicle_rising.iso (1,964,621,824 bytes)
100% Lossless and MD5 Perfect: all files after installation are identical to the original release up to bit
NOTHING cut, NOTHING re-encoded
Compression improved (from 1.8 to 1.3 GB)
Installation takes a minute
After installation, the game takes 4.3 GB
After installation, the option to check the checksums of all files is available to make sure that the repack was installed normally
The language can be changed in the game settings
To install the repack, you need at least 2 GB of free RAM (including virtual)

[Repack] by FitGirl
Problems installing and running repacks? (not just mine)
If you get errors when installing my or any other repacks (especially Xdelta or with Unarc.dll), try the following:
Rehash the torrent! – for example in uTorrent you need to select a game, press stop, press the right mouse button and select "Force re-check".
Make sure that your username in Windows does not contain Russian or other non-Latin letters – only Latin letters and numbers are allowed
Disable the antivirus – it can falsely work for drugs, which will either interrupt the installation of the repack, or simply prevent the game from starting
Disable UAC – it can block unpacking/assembling programs inside the installer
Make sure that the size of your virtual memory (swap file) is at least as much as the amount of physical memory, and preferably twice as much.
Make sure you have enough space on the destination hard drive, as well as on the Windows temporary files drive.
I'll try install the game NOT on the C: drive, or vice versa – ON the C: drive, if it is not installed on another one – the rights in Windows are like this …
Look if there is a Windows system folder (and deeper) of the unarc.dll file. If it exists, remove it
Run the installer with rights as shown in the picture ("Properties" menu when you right-click on the file):