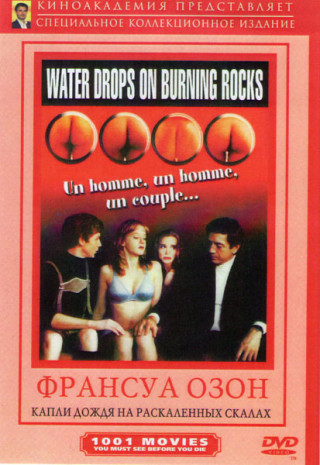 Title: Raindrops on Hot Rocks
Título original: Gouttes d'eau sur pierres brûlantes / Drops raining on burning hot rocks
Release year: 1999
Genre: Drama , melodrama , comedy
Released by: France, Fidélité Productions, Les Films Alain Sarde, Euro Space
Directed by: Francois Ozon
Cast: Bernard Giraudeau, Malik Zidi, Ludivine Sagnier, Anna Levine
About the film: Germany in the 70s. A naive young Franz moves into Leopold's apartment, much older than his successful businessman. Role-playing, manipulation lead the couple's relationship to a standstill, suddenly it turns out that two people become too different. The situation takes a new turn when the alliance of two men is broken by girlfriends.

Quality: WEB-DL 1080p
Video: MPEG-4 AVC, 5278 Kbps, 1796×1076, 24 fps
Audio: Russian (AC3, 6 ch, 384 Kbps), French (AAC, 2 ch, 121 Kbps)
Duration: 01:25:33
Translation: Professional polyphonic
Subtitles: English