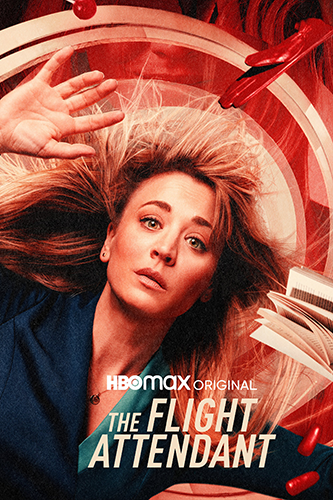 Movie information:
Title: flight attendant
Título original: The Flight Attendant
Release year: 2022
Genre: Thriller , Drama , Comedy
Directed by: Susanna Fogel, Marcos Siga, Sebastian Silva
Cast: Kaley Cuoco, Merle Dandridge, Nolan Gerard Funk, Michelle Gomez, Michiel Houseman, T.R. Knight, Zasha Mamet, Audrey Grace Marshall, Rosie Perez, Colin Woodell
Synopsis: Flight Attendant is an eight-episode comedy thriller, the second HBO Max original TV project after Raised by Wolves. The series was produced by Kaley Cuoco's relatively young production company Yes, Norman, which is behind the Harley Quinn animated series. As in the case of the cartoon, Kaley herself not only played the main role in the new project, but also took the place of one of the producers of the series. Needless to say, this perky lady definitely knows how to take her career into her own hands. It was she who, a couple of years ago, was determined to film the novel of the same name by Chris Bokhdzhalyan and assembled the project team even before she finished reading the book – Cuoco was so impressed by this dark story about a flight attendant involved in a strange murder. The series also starred the public's favorite Michiel Houseman (Game of Thrones, The Haunting of Hill House), Doctor Who and Chilling Adventures of Sabrina star Michelle Gomez, Rosie Perez, Zasha Mamet and others.
Cassie Bowden (Kaley Cuoco) is an airline flight attendant on international flights. She leads a wild life and indulges in all kinds of entertainment in various parts of the world. However, Cassie's last such adventure in exotic Bangkok ends in a real nightmare: yesterday's lover Alex (Mikhil Hausman), a passenger on her last flight, is found dead right in her bed, and Cassie herself has absolutely no memory of what happened last night … More yesterday, the stewardess who did not know troubles will have to hide from international intelligence services, deceive colleagues and friends, directly face the realization of how destructive her addictions turned out to be, and try to fix everything.

Country: USA
Duration: ~00:49:00 episode
Translation: professional (poly-voiced voice-over) AlexFilm
Translation: professional (multi-voiced voice-over) Lostfilm
Translation: Amateur (polyphonic, off-screen) RuDub
File
Quality: WEB-DLRip 720p
Container: MKV
Video: MPEG-4 AVC, ~2935 Kbps, 1280×640
Audio 1: AC3, 48 kHz, 6 ch, 384 kbps – Rus (AlexFilm) 1-5 series
Audio 2: AC3, 48 kHz, 2 ch, 384 kbps – Rus (Lostfilm) 1-5 series
Audio 3: AC3, 48 kHz, 2 ch, 256 kbps – Rus (RuDub)
Audio 4: AC3, 48 kHz, 6 ch, 384 kbps – Eng
Subtitles: English (SDH)
Advertising: None
Release: Dantenecto