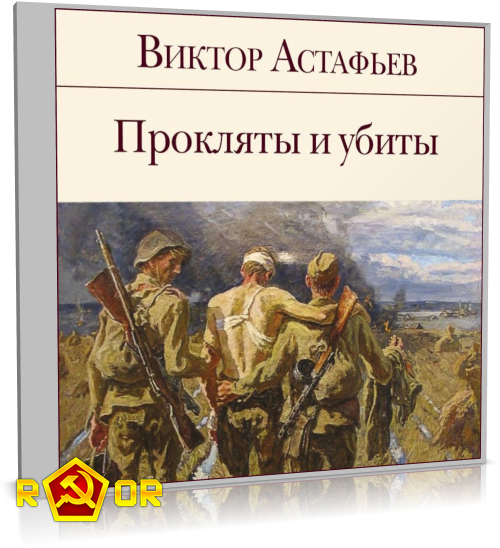 Title: Cursed and Killed
Genre: Audiobook , Russian_literature , classical_literature , military_prose
Author: Viktor Astafiev
Reader: Vladimir Knyazev
Year of publication of the audiobook: 2020
Duration: 34h. 31m. 33s.
Description:
Viktor Astafiev wrote: " … I hate death, in any manifestation, I deny war in any form, and as long as I live, I will stand on it … " – and he had every right to do so, because in 1942 he volunteered for the front and served until victory ordinary fighter.
The unfinished novel by Victor Astafiev, " Cursed and Killed, " is "the first Christian reading of that war " (V. Kurbatov), an attempt to look at the war from the point of view of Christianity, from the point of view that war is not pleasing to God and one cannot be proud of it . A direct echo of Leo Tolstoy's rejection of war. The epigraphs to the books and a quote from the stichera in the very text of the novel: " It was written that everyone who sows turmoil, wars and fratricide on earth will be cursed and killed by God ," speak for themselves.
The events of the first book " Devil's Pit " unfold in the autumn of 1942. One of the reserve regiments of Siberia, which brought together untrained, motley fighters with difficult characters and difficult fates, many after imprisonment. Preparing for military operations at the front, during which even domestic passions sometimes boil… The second book describes the events taking place during the crossing of the Dnieper in 1943, in which V. Astafiev himself took part.
The first book was awarded the Triumph Prize, the second became a nominee for the Russian Booker.
Viktor Petrovich Astafiev is an outstanding Russian writer, laureate of the State Prizes of the USSR and the RSFSR. In 1942, he volunteered for the front, in 1943, after graduating from an infantry school, he was sent to the front line and remained an ordinary soldier until the very end of the war. At the front he was awarded the Order of the "Red Star" and the medal "For Courage".
Experienced in the war, the war, as Viktor Astafiev saw it on the front line, became the central theme of the writer's work. He filled the novel " Cursed and Killed " with incredible energy, the energy of resistance to untimely death. It was with this novel that Astafiev summed up his reflections on the war as a "crime against reason."
File
Format/Codec: MP3/CBR
Audio Bitrate: 128kbps